System Configuration
Detail
This display shows all the information for your organisation, such as name, address, email, and VAT number. In here you can also change your Culture for the whole business. This information can be added, edited, and deleted using the icons shown at the begging of system settings.


System Options
The first section under System options is where you set up your education area, First you select the education sector, then the education mode, mixed mode means that you provide education for both adults and children. Then select the education system you work in, this will change things such as bank holidays. Next is the descriptors section, here you can edit the terms used for pupils, and additional adult contacts.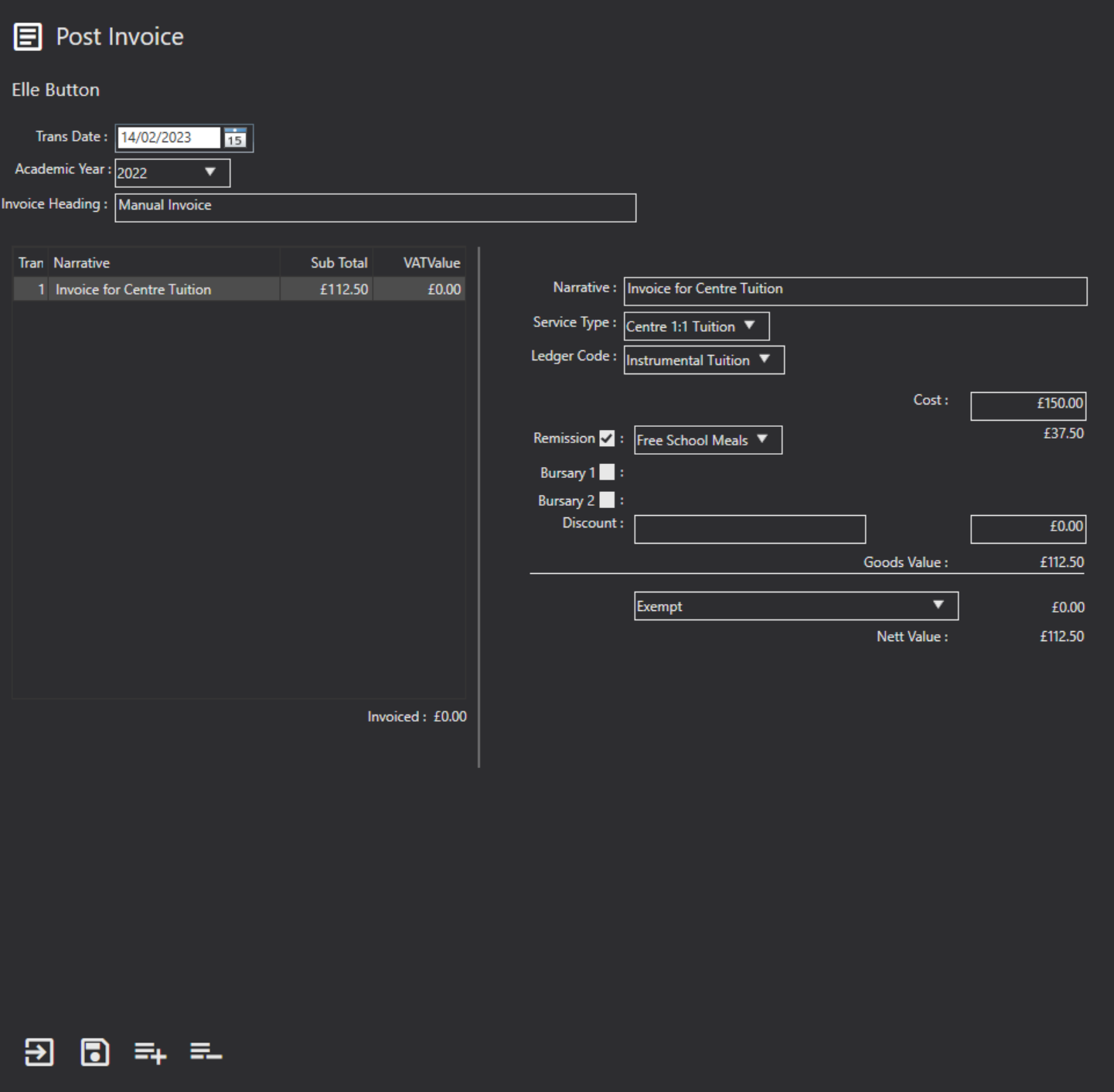 Next are the general settings, first is to switch to next year month, this is the month that the standard view changes over to the next academic year. Allow two-tier events allows you to create events where they require evaluation. Allows school connections enables the option where parents can link up to their child's tuition in school-billed activities. If use pronouns is turned on then it will ask for the pupils pronouns on application. Use pupil exams allows for teachers to enter details about pupil exams they have taken. For this you need the exam module turned on, and then you need to set up exam boards and grades, these can be found here. Next is use ethnic groups, if this is turned on the it will ask for the pupils ethnicity, you will need to set up ethnicities, which can be found here. Use funding allows you to record the different type of funding that a school has, you will need to set up fundings here before you can add then to a school. Use area is used to record the different area the school is in. Use department lets you set up departments which can then be used on service types to separate the different areas of your business. You can set up departments here. Next is use groups, if this is turned on then you set up groups for your admin team where you can specify what access they can have to different areas of the system. To set these up see here, if you have these turned on you need to assign a group to everyone otherwise they won't have access to the system. Use faculty allows you to set up faculty to be recorded on teachers, these can be set up here. Use genre are used on groups so you can specify the genre of a group. To set these up see here. Use activity groups are used to categorise activities, you can set up activity groups here. Use interest allows you to set up interest sources, which then applicants can select from so you can record where someone has found you from, you can set these up here. If use nationality is turned on then it will ask for an applicants nationality on application. The final option in this section is use country which ask the applicant for the country they are from.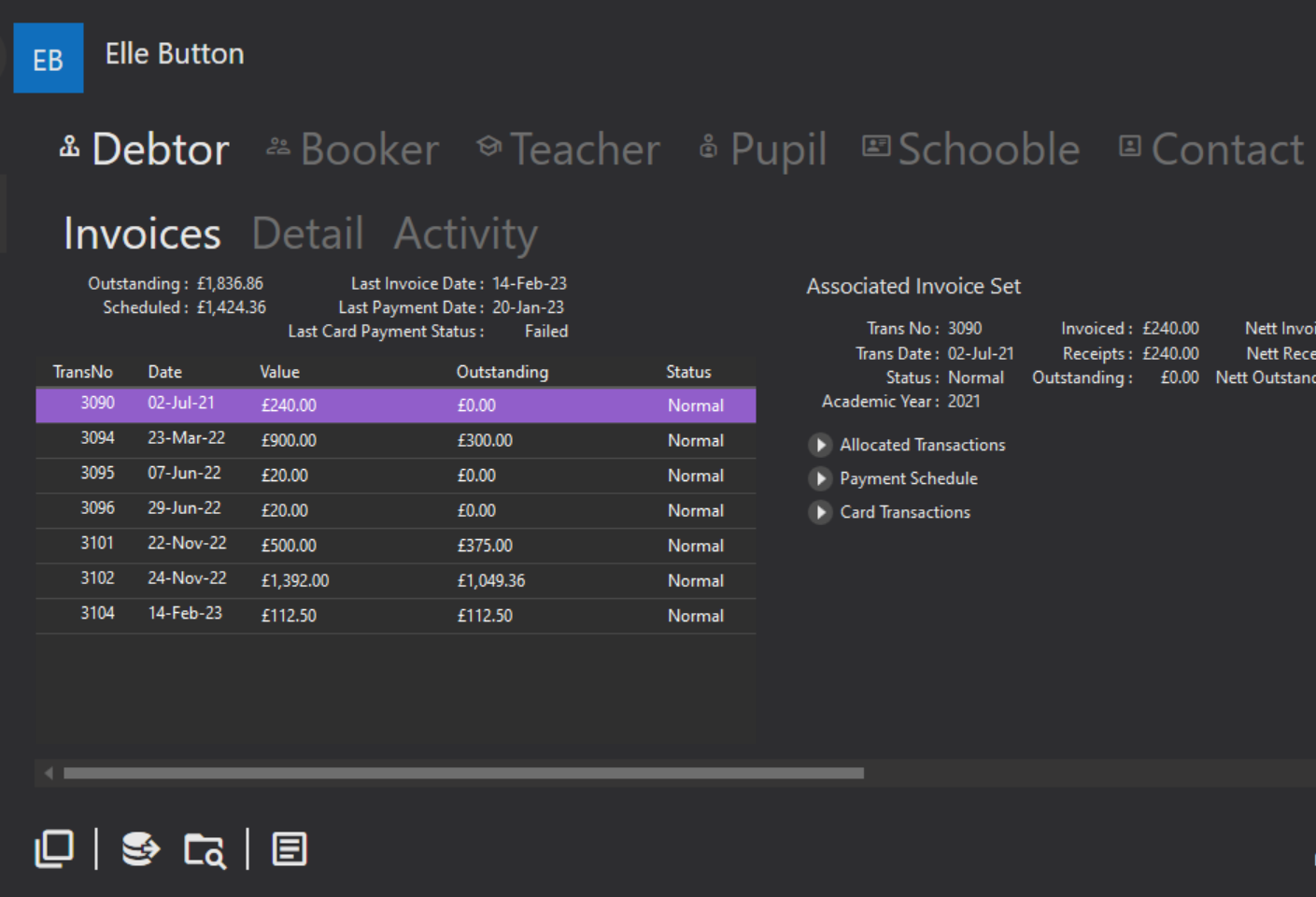 The next section is GDPR, here you can set the age that you class as an adult, you can also set the minimum age for contact. The minimum age of contact means that any pupils this age or above will be asked for their own email and contact number. If use share info is ticked, then any pupils over the child responsibility age will need to give permission for parents to see their info. If the child age of responsibility is lower then the minimum age for contact then it will use this as the age to collect pupil personal contact info.

The next lot of settings are around the information you collect on pupils. Allow not currently in school allows for pupils who are not yet at school age. Use LAC will ask if the pupil is a looked after child. Use SEN will ask for the pupils SEN number. Use has been in care ask if the pupil has been in care. Use is carer ask if the pupil is a young carer. Use pupil schools will ask what school the pupil currently attends. Use medical notes will ask for pupils medical information, you can set up the information around this here.

Next is teacher pay and contracts. If you select use teacher contracts then you can set up contracts, and then these can be attached to a teacher record and on a teachers activity. You can assign multiple contracts on a teacher contract record. Se how to set up teacher contracts here, and see how to assign them to teachers here. Next is how teacher travel is calculated based on where it goes to and from. The current pay claim period ends is where you set the end of each pay claim period and teachers can then claim up to that date. The pay claim include months is how many moths previous a teacher can claim for.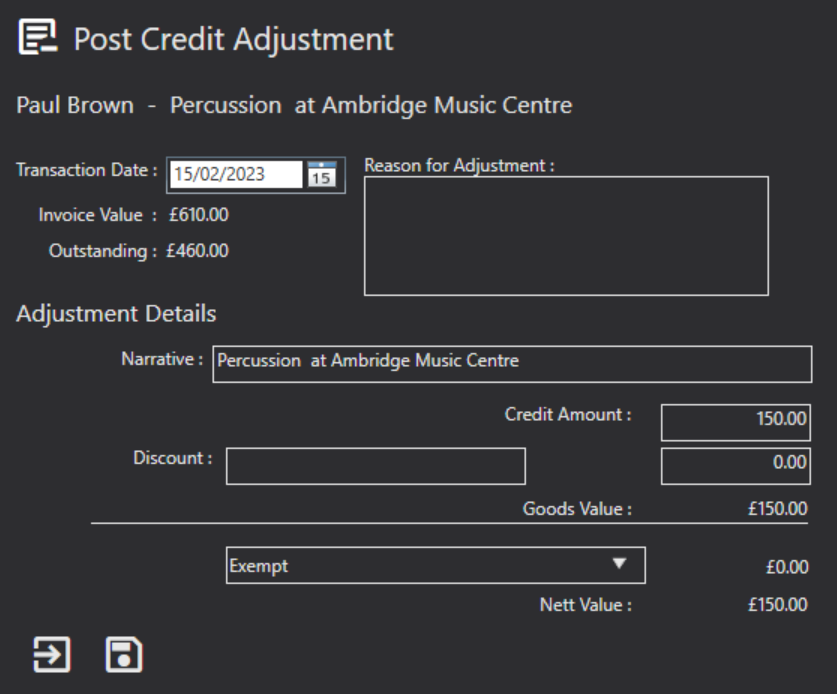 The last section is the schools settings first is use local authority if turned on you can set up local authorities and assign them to your schools. The last option is school confirm diary, if turned on the schools will be able to confirm the task result on school billed lessons.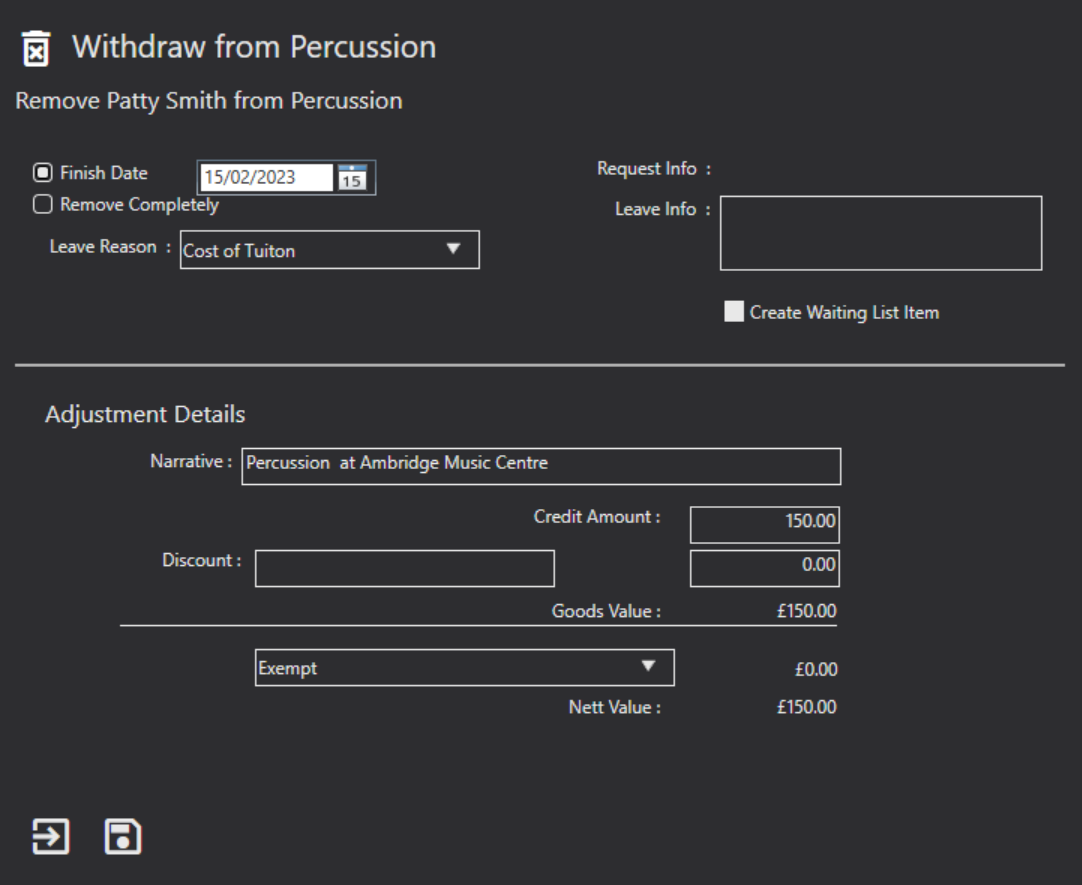 Finance Options
Here, you can define if your organisation uses VAT, remissions, bursaries, and subsidies. You can also determine the Write Off Limit, whether credits need authorisation, and if refunds are auto-generated.
The Write Off Limit determines at what value an invoice can be written off. Usually, this might be done if a small or negligible fee remains on the debtor's account. To learn more on how to Write Off an invoice see here.
The Calculation Order will define which discounts are applied first:
Option 1: Uses the order Discount Code, Subsidy, Sibling Discount, Multiple Activity Discount, Pupil Remission, Bursary 1, Bursary 2, and Discount.
Option 2: Uses the order Discount Code, Subsidy, Pupil Remission, Bursary 1, Bursary 2, Sibling Discount, Multiple Activity Discount and Discount.
Option 3: Uses the order Discount Code, Pupil Remission, Bursary 1, Bursary 2 Sibling Discount, Multiple Activity Discount, Subsidy, and Discount.
The system as standard bills schools by academic year, if you want to bill school by financial year tick bill schools by financial year, you can then also set what month your financial year starts on.
The debtor reminder period is how often emails are sent to debtors to remind them they need to pay their bill. The email is only sent to debtors who do not have a payment schedule in place. If set to zero then it won't send reminder emails. Individual invoice due days is the number of days after the invoice has been raised that the payment is due by.
Debtor organisation reminder period is how many days between the emails that are sent to organisations for them to pay their invoices.If set to zero then it won't send reminder emails. Organisation invoice due days is the number of days after the invoice has been raised that the payment is due by.
You can opt if you use Sibling Discount and what the sibling discount is and if the discount is applied to the first sibling to apply. If unticked, it will only apply to siblings following the first sibling applying. On your sibling discount you state if it is a value or a percentage and then what that value is.
You are also required to state where you would like to apply for the Sibling Discount.
"Apply Sibling Discount Across All" will mean that the system will look for a sibling enrolled in anything. By ticking this, the other tick boxes will disappear.
"Apply Sibling Discount Across Groups and Tuition" will cause the system to search for a sibling in Groups and Tuition. Selecting this option will make the bottom three options disappear.
Lastly, you can "Apply Sibling Discount Across Groups, Tuition, and Resources". These are individual cases: you can have all three ticked, but they are not all linked. If these groups are ticked, the system will look for siblings who are also in a Group. Likewise, if tuition is ticked, it will look for a sibling who is also registered under tuition.

Installment options allow you to determine how you want to take installments, whether it is monthly, termly, both or neither. This is set for the whole organisation and cannot be changed for each activity. The Final Installment due is the number of days before the end of your academic year that you require the total amount or final payment due.
A Manual Debtor Account No allows you to add an account number to each debtor. If unticked, the system will automate this.
The "DLInvoice No Prefix" adds whatever you put in there to the beginning of an invoice number.
The "DLInvoice No Use Mod 11" adds this to the end of an invoice number.
If you use girt aid you can return this on, and then add text for both agreeing and disagreeing to gift aid.
The termly advance payment days is how many days before the start of the term you require the next term payments. The monthly advance payment days is how many days before he next months sessions you need that months sessions you require payment for.
The max number of monthly installments is the maximum number of installments you want to offer.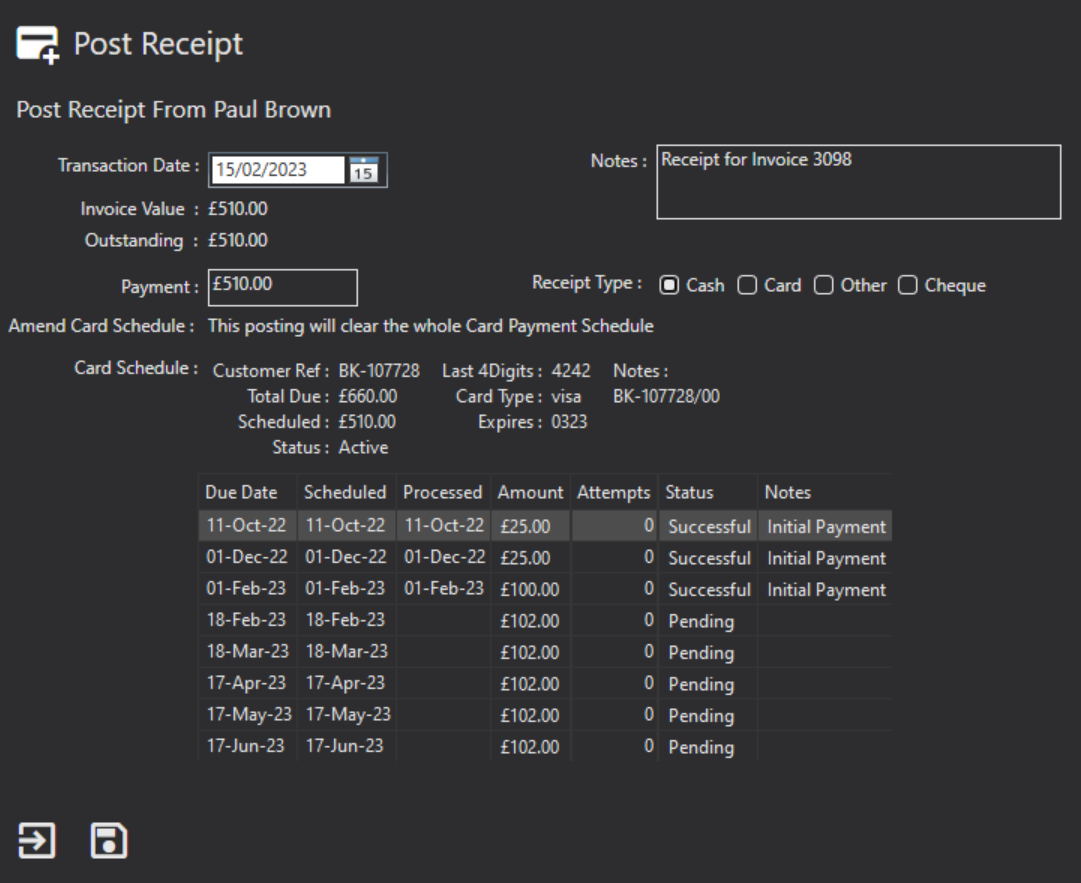 You can select here whether you want the Payment Schedule Changed and the Payment Schedule Status mails to be sent out to your customers or not.
Lastly, Invoice Footer. Here you can put in anything that you may want to appear on the footer of any invoices created by the system.

Communication Options
The next tab is the communication tab. Here you can set up how the system sends automated emails. The From and Reply emails are the email addresses that email are dispatched from and the email that customers respond to. The Enquiry telephone number will be displayed on the email templates. You can change the colours that are displayed on the standard email templates using the colour hex. You can also alter the pictures used on the standard email template.
Email Templates
Next you can set up you email templates. When you select an email template type you can view the email assigned to that template type. All template types are automatically set to the Xperios standard templates.
API Keys
Here, you can generate API keys for connecting your data via third party software.
Connect to the Xperios Data API
We provide a public access API designed to allow users read access to their data. This is done using tools such as Excel, PowerBI and other reporting tools. API calls require a call header to contain an API key. API keys are obtained from within Xperios. You can use these API keys to search for a specific query all of which are explained in the appendix. The first bullet point is the name of each query. The rest are the parameters for these. You will need swap the blue text for the required information.
To get your API key you will need to generate it. Start by opening System Configuration under System Settings. Then go to the API ey tab, and select the icon shown here.
You can then use the icon highlighted in the example screenshot to copy the key.
Languages
In the languages section of your System Configuration, you can select the languages you want in the application process. The list of available languages is all the languages that Xperios supports, drag, and drop languages into the Selected languages column. Once you have dragged all the languages, use the save icon. Once your languages are set up, there are few places within the system where you can go and override these translations.
Modules
The next tab is Modules. Here, you can select which part of the system you would like to turn on or of depending on what functions you use. The framework is standard and cannot be turned on and off. Tuition covers managing schedules, teachers and pupils in activities run in schools and centers. Resources manage all your instruments, sheet music etc., including where they are stored and who may be hiring them. Groups are used to manage any ensembles, bands and choirs. Exams allow you to set up and take bookings for any exams. Auditions enable you to manage your audition process. Events can be used to set up events, projects and trips. Rapport and CRM allow you to manage your customer service and marketing. Appraise is used to manage pupil reports, and finally, Studies are used to set up studies, a combination of a few activities that a pupil might be learning.
Payments
This section allows you to select the payment provider that you will be using with Xperios. Depending on the provider selected there may be different fields to fill in. At Paritor we offer our own payment integration called Schooble Pay, if selected there is not set up. Costs can be found at Paritor.co.uk.